Master your pitch during this 90-minute workshop with Meghan Ross from Seed&Spark!
Overview
Led by Head of Creator Success at Seed&Spark, Meghan Ross, this Gotham Week Conference Direct Access workshop 'The Art of Pitching: Elevator Pitches & Pitch Decks' will cover the do's and don'ts of pitching. You'll learn how to prepare for a pitch meeting, adapt a pitch to different audiences, and then follow up, setting your project for success.
ABOUT THE GOTHAM WEEK CONFERENCE
The Gotham Week Conference explores the art and business of film and media today. Seasoned mentors and industry leaders make the Conference the premier forum for creators to break through and take their careers to the next level. Through panels, workshops, and networking opportunities, creators access the tools they need to connect with audiences, expand their story's reach, and build sustainable careers.
ABOUT GOTHAM WEEK
Back IRL for the first time in three years, Gotham Week 2022 will take place at the Brooklyn Navy Yard, September 17-23, and also includes virtual programming and events. Each year, Gotham Week connects groundbreaking talent in film, TV, and audio to the ecosystem of industry decision-makers, experts, and organizations that support their success. Through Project Market discoveries and acquisitions, innovative Conference programming, and the inaugural partner Expo, Gotham Week gives independent creators critical industry access, resources, and opportunities to grow their network. It provides a unique platform from which groundbreaking careers and projects have launched, celebrating the creativity, boldness, and determination The Gotham is all about.
Panelists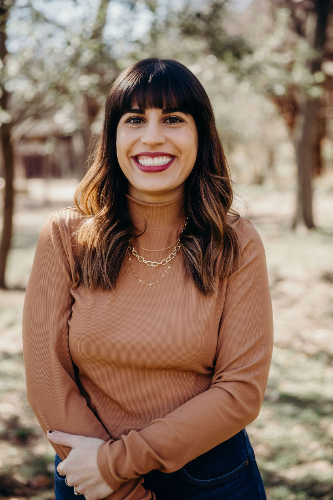 Meghan Ross
Seed&Spark - Head of Creator Success
Meghan Ross is an Austin-based writer/director/comedian who was selected for 2022 Women at Sundance | Adobe Fellowship and Sundance Episodic Lab 2021-2022 for her comedy Here to Make Friends (also her personal tagline). Her shorts made The New Yorker's Best Shouts of 2020 list, she was nominated for The Webby Awards for If You Ever Hurt My Daughter, I Swear to God I'll Let Her Navigate Her Own Emotional Growth, featuring narration by Jon Hamm, and her writing has appeared in Reductress, VICE's Broadly, TV Without Pity, The Toast, and other defunct but beloved sites. She hosted the late night show That Time of the Month for 5 years and is currently Head of Creator Success at Seed&Spark. Most importantly, Meghan's an aspiring stage mom to her rescue pit-lab, Dreidel.
Presented With

Seed&Spark connects people through stories that matter. Since 2012, their platform has helped thousands of creators bring stories to life and to audiences via story-centric crowdfunding, free education, impact distribution, community events, and workplace programs that cultivate a culture of equity and inclusion.
Date & Time
Monday, September 19, 2022
12:00 PM - 1:30 PM EDT
RSVP DEADLINE: September 19, 2022 @ 11:45 AM
Location
Virtual Online
ACCESSIBILITY
If you require accessibility needs to attend the event, please reach out to accessibility@thegotham.org.
RSVP Instructions
REGISTRATION INFORMATION
This event will occur virtually via Zoom. You will receive the Zoom link and information about how to access the event upon registration confirmation via email.

If you are attending with a guest, they must RSVP independently.
GOTHAM MEMBERS
PAYMENT INFORMATION
To use a discount code, please enter the code under 'Payment Information' as you complete your registration. Note, if you are using a code, you are still required to enter payment information.

Please note, due to high demand and limited capacity, this ticket is non-refundable.
Contact
Contact us at info@thegotham.org with any questions.