New voices in trans cinema discuss the power of storytelling as a tool for meaningful cultural change.
Overview
Hear from exciting, new voices in trans cinema including alumni of the Fatales Forward: Trans Stories program, a trailblazing fellowship from Film Fatales created to uplift trans and gender-diverse filmmakers by fostering an enduring collaborative community of creators, as they discuss their filmmaking process, the state of representation, and the power of storytelling as a tool for meaningful cultural change.
Despite the increased visibility of trans characters on screen, opportunities for gender-expansive directors behind the camera are virtually non-existent. By sidelining gender nonconforming voices, Hollywood is actively contributing to the misrepresentation that leads directly to real-world violence. It is crucial that the film industry take responsibility for our role in influencing culture. We need more gender-nonconforming storytellers behind the camera to ensure the authenticity of the stories being told.
ABOUT THE GOTHAM WEEK EXPO
The Gotham Week Expo brings together partners from our Expanding Communities, Owning It, and Gotham EDU programs for the first time. The Expo will showcase thought leadership on the advancement of the film and media industries while amplifying partner organizations and communities.
ABOUT GOTHAM WEEK
Back IRL for the first time in three years, Gotham Week 2022 will take place at the Brooklyn Navy Yard, September 17-23, and also includes virtual programming and events. Each year, Gotham Week connects groundbreaking talent in film, TV, and audio to the ecosystem of industry decision-makers, experts, and organizations that support their success. Through Project Market discoveries and acquisitions, innovative Conference programming, and the inaugural partner Expo, Gotham Week gives independent creators critical industry access, resources, and opportunities to grow their network. It provides a unique platform from which groundbreaking careers and projects have launched, celebrating the creativity, boldness, and determination The Gotham is all about.
Panelists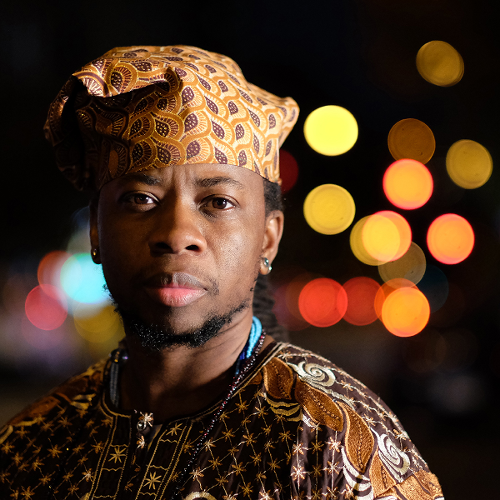 Seyi adebanjo
seyi adebanjo is a Queer Gender-Non-Conforming Nigerian MFA artist, who raises awareness around social issues through video, ritual, photography & writing workshops. seyi is serving on The Think Tank (2021-2022) as one of the co-designers of Creatives Rebuild New York (CRNY) artist grant programs. seyi was recently awarded a residency with The Laundromat Project, NYSCA Individual Artist Grant, received the BRIO Award and 1 of the 8 Exciting Filmmakers Shaking Up Hollywood by IndieWire. seyi was nominated for the 2020 Art Matters Fellowship. seyi's projects include: Honor Black Trans Womxn! a call to center, protect and celebrate Black Trans Womxn. I AM! We Are Here! illuminates the vitality, spirit & joy of LGBTQ People of Color in the Bronx. seyi's powerful short Justice for Islan Nettles has screened on PBS Channel 13, Brooklyn Museum and continues to screen globally. seyi's award-winning documentary ?ya: Something Happened On The Way To West Africa! is screening globally with a speaking tour. seyi's latest project is Afromystic which follows LGBTQ Òrìsà practitioners and priests/esses at the crossroads of Yorùbá, Caribbean and Afro Brazilian Culture, while reclaiming lost mythologies. The work celebrates lost Queer & Trans folklore, where deities change gender and are born from the love of two womyn. With explorations of gender fluidity, Queerness and spirituality, seyi's work exists at the intersection of art, imagination, ritual and politics.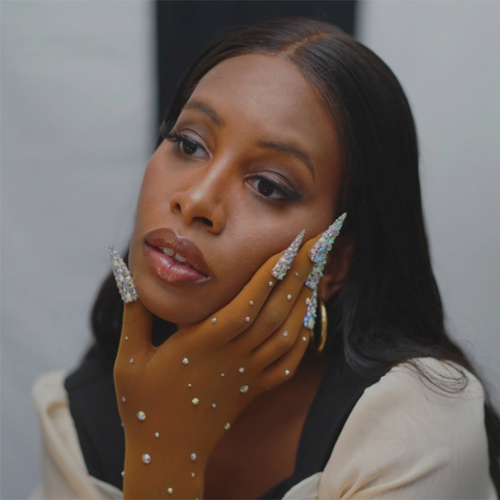 Nyala Moon
Nyala Moon is a filmmaker, writer, and actress of trans experience. After working in the nonprofit community helping other transgender and queer people of color access affirming health care, Nyala took a leap of faith and pursued her passion for filmmaking. Before going to film school, Nyala worked with the indie LGBT film scene as a director, writer, and producer. Nyala was also a contributor for the anthology, Written on the Body: Letters from Trans and Non-Binary Survivors of Sexual Assault and Domestic Violence by Lexi Bean. Nyala Moon has been touring colleges with her other anthology contributors, speaking to college students about sexuality, gender identity, and sexual assault. In May 2020, Nyala graduated from City College with her MFA in film production. Last year her student thesis film, One Last Deal, was screened at NewFest, Inside Out Toronto, Outfest, and many other film festivals. Nyala was also a 2020-2021 QueerArt Film fellow with Tu Me Manques director Rodrigo Bellot as her mentor. She also is a TV writing fellow for Hillman Grad 2021 inaugural class, and recently received the NewFest New Voices Grant.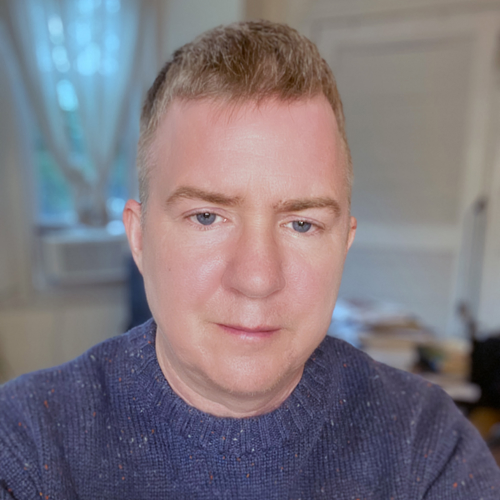 Chet Pancake
Chet Pancake is an award-winning filmmaker, video, new media, and sound artist. They have exhibited at national and international venues such as MoMA, Royal Ontario Museum, Baltimore Museum of Art, and Academy of Fine Arts, Prague. Pancake's narrative and experimental documentary work has been screened at over 150 venues nationally, as well as broadcast on the Sundance Channel, PBS, FreeSpeech Television, and the Community Channel UK. Their films are nationally & internationally distributed by Bullfrog Films and Canadian Filmmakers Distribution Center and are held in permanent collections in over 75 university and museum archives nationally. Pancake is an Assistant Professor in the Film and Media Arts Program at Temple University. Pancake's film Queer Art was recently released by Frameline Distribution.
Moderators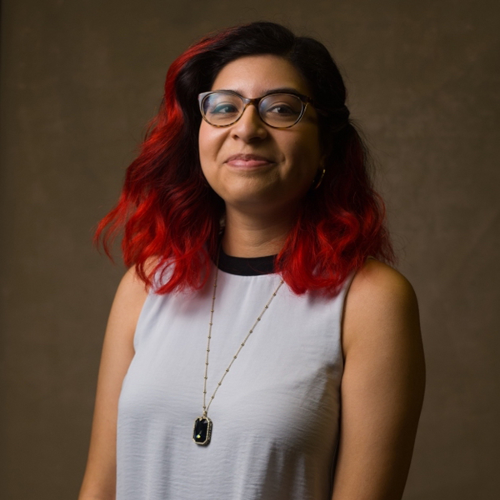 Kristal Sotomayor
Kristal Sotomayor (they/she) is a bilingual nonbinary Latinx documentary filmmaker, festival programmer, and freelance journalist based in Philadelphia. Currently, they are in-production on Expanding Sactuary, an independent short documentary about the historic end to police surveillance organized by nonprofit Juntos and the Latinx immigrant community in South Philadelphia. They are also in-development on the short docu-animation film called ALX Through The Labyrinth that takes a dive into the nonbinary Latinx Alice In Wonderland-like reality of contracting COVID-19. Kristal is a MDOCS Storytellers' Institute Visiting Fellow, If/Then North Shorts Resident, DCTV Docu Work-In-Progress Lab Fellow, Justice For My Sister Sci-Fi Screenwriting Lab Fellow, BAVC Serial Storytellers Fellow, Good Pitch Local: Philadelphia Fellow, and NeXtDoc Fellow. They serve as the Awards Competition Manager for the IDA Documentary Awards, Co-Founder/Journalist for ¡Presente! Media, and are the Editor-In-Chief of the cinéSPEAK Journal. Formerly, Kristal was the Programming Director for the Philadelphia Latino Film Festival and Communications and Outreach Coordinator at Scribe Video Center. In the past, they have assisted with curation for SFFILM, "Spotlight on Documentaries" at IFP Week, Camden International Film Festival, Philadelphia Film Festival, Tri-Co Film Festival and the award-winning PBS documentary series POV | American Documentary. They have received leadership training from the Film Festival Alliance & Full Spectrum Features Film Festival Leadership Lab Fellowship, National Association of Latino Arts and Cultures (NALAC) Advocacy Leadership Institute and the Arts + Business Council [Virtual] Creative Exchange Program. Kristal's journalistic background includes having written for ITVS, AL DÍA, WHYY, and Documentary Magazine. They write the Latinx cinema column "Cine alzando voz" for cinéSPEAK. They are a recipient of the Lenfest Constellation News Leadership Initiative, Sundance Institute Press Inclusion Initiative, TIFF Media Inclusion Initiative, IDA Magazine Editorial Fellowship, and the NBC University Visual Storytelling During Breaking News.
Presented With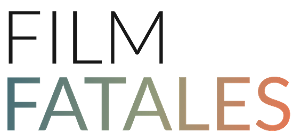 Film Fatales is a 501(c)3 non profit arts organization and talent discovery platform which supports a membership community of over a thousand feature film and television directors of all marginalized genders. We advocate for hiring equality and inclusive programming practices by working with key decision makers to expand the talent pool and raise the visibility of underrepresented creators. Together we can build a more equitable film industry for us all.
Date & Time
Saturday, September 17, 2022
11:00 AM - 12:00 PM EDT
RSVP DEADLINE: September 17, 2022 @ 10:45 AM
ACCESSIBILITY
Learn more about accessibility at Gotham Week at https://thegotham.org/gotham-week/accessibility. If you require accessibility needs to attend the event, please reach out to accessibility@thegotham.org.
RSVP Instructions
REGISTRATION INFORMATION
This event will occur in-person at the Brooklyn Navy Yard. You will receive location information and directions upon registration confirmation via email.

If you are attending with a guest, they must RSVP independently.

Attendance at this event is first-come, first-served. RSVP does not guarantee entry.

Attendees to Gotham Week Expo or Conference events must be fully vaccinated for COVID-19 prior to attending Gotham Week. Attendees will be required to show proof of vaccination upon check-in. Masks are strongly encouraged. To learn more about our COVID-19 event safety, please visit our Event Safety page.
Contact
Contact us at info@thegotham.org with any questions.